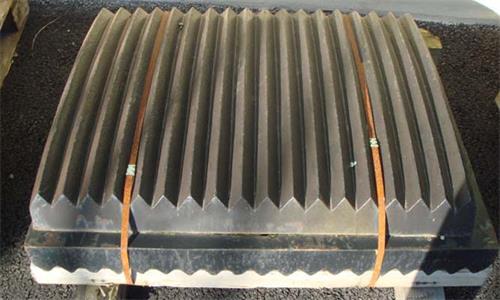 Jaw Plates
WHITE LAI replacement crusher jaws are engineered to last longer and crush more efficiently, while reducing wear and tear on the crusher.
The crusher jaws produce better quality rock more consistently than standard original equipment jaws, while reducing the need for re-screening and re-crushing. WHITE LAI offers a full range of options for all popular jaw crushers, including various tooth designs, curves and alloys.
WHITE LAI's crusher jaws give you:
● Machined surfaces for a consistent fit with less hassle and downtime
● Large selection of tooth and curve configurations for optimum performance in any application
● Unsurpassed alloys for extended wear life and lower cost per ton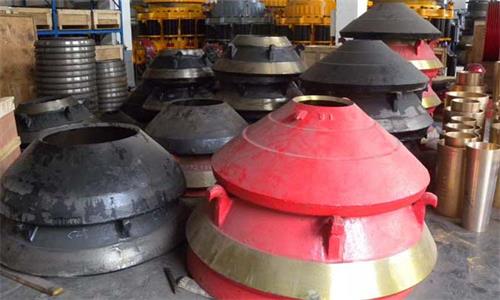 Mantles & Concaves
WHITE LAI supplies replacement wear parts to fit all major cone crusher models, including the new high-horsepower crushers. WHITE LAI cone crusher wear parts are engineered to maximize production by retaining the feed opening throughout the part's lifespan, and balancing the mantle and bowl liner wear. Cone parts can be custom fit to match any application.
WHITE LAI's cone crusher wear parts give you:
● Custom configuration ensures consistent production
● Long-lasting manganese steel and durable parts increase crusher uptime
● Precise fitting distributes stresses across the frame for less wear and tear on the equipment
Gripper Slot Bowl Liner
The WHITE LAI gripper slot bowl liner is specifically engineered to permit oversized rock to enter the chamber and keep the feed opening clear. The ribbed mantle helps begin the crushing process higher up in the chamber for cobblestone and river rock material that is typically difficult to grab. The result is more even wear and improved production.
Main Frame Cone Crusher Liners
WHITE LAI also fabricates Main Frame Liners and inserts that provide an economical alternative to OEM parts. Our selection of WHITE LAI plates and chromium carbide overlay plate offers a wider choice to address wear protection.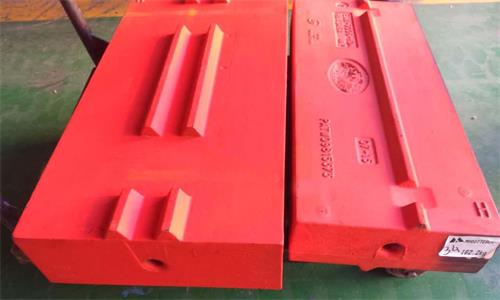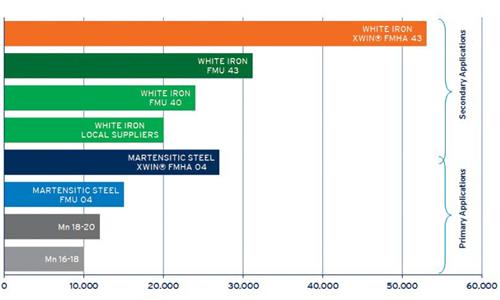 Magotteaux Blow bar
Xwin® Martensitic Steel is a standard MMC (Metal Matrix Composit) solution which was first developed to recycle building waste; it has now been used for many years and is hence renowned on the market. Combining the high wear resistance of the ceramic compound with a high chrome white iron increases the lifetime while keeping the physical parameters of the required matrix. Against white iron solutions, which are breakable, the use of Xwin® Martensitic solutions reduces the risk of breakage of the blow bars to its lowest level according to applications.
Key Benefits:
● Increase the lifetime of blow bars(from 80 up to 120%)
● Reduced maintenance
● Maintained original wear profile
● Improved productivity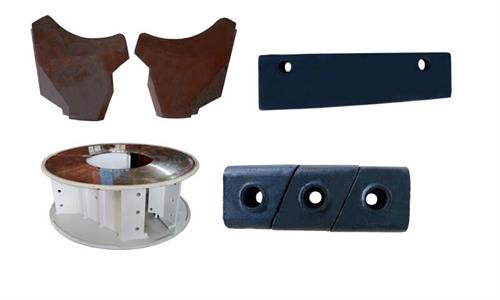 VSI Wear Table
WHITE LAI S series VSI crusher wear parts are cast from premium chrome white iron alloys 35S and 33F-MC for maximum abrasion resistance. Careful production control ensure that parts wear uniformly. In addition, weight is maintained to a very close tolerance to minimize vibration.
WHITE LAI offers high quality throw shoes and anvils for S series VSI crushers,also offers such VSI accessories as rim liners, lid liners, table liners, feed tubes, feed discs and pedestal liners.
Key product features include:
● Material: high manganese steel, high Chromium or 45 carbon steel; Depending on the specific conditions, all wear parts can be ordered as high manganese steel, high chrome cast iron or Cr-Mo alloy steel.
● Process: polished and rust-resistant as per your requests.